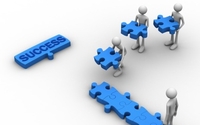 By Chuck Martin
As more businesses dive into the Internet of Things, one of the key questions on the table is how to define success.
For media and entertainment companies, there are five factors, based on a large global study.
The top-of-the-list factor is being able to gather, process and analyze huge amounts of digital data/big data, according to the study Internet of Things: The Complete Reimaginative Force by Tata Consultancy Services (TCS).
The study comprised a survey of 800 executives from large, multi-national corporations and examined the impact of IoT technologies across a range of industry sectors around the world.
For the media and entertainment segment, including publishers, broadcasters and entertainment companies, dealing with data in one form or another takes the top two spots.
In second place is determining what data to capture from the IoT, somewhat more strategic in nature than developing the capability to capture the data.
Two success factors tied for third place:
Having skilled business analysts who know how to understand what IoT data is revealing about company products in the field, the factory, the supply chain, etc.
Having skilled technologists who know how to develop and/or integrate IoT technologies into company products and processes
The fourth place factor relates to the technology being deployed. Specifically, it involves getting IoT technologies (digital sensors, microprocessors, embedded software, etc.) to operate reliably in the field.
Interestingly, four different issues tied for fifth place as critical success factors.
Some of these issues strike me as much more challenging than those that ranked above them.
Here are the factors that tied for fifth place:
Identifying and pursuing new business and revenue opportunities
Getting managers and staff to change the way they think about customers, products, and processes for serving those customers based on new insights about how those customers are using company products
Having top management that believes the IoT could have a major impact on business, and is willing to invest in it today
Integrating IoT data (from sensors and other digital device) into enterprise systems (enterprise resource planning, customer relationship management, supply chain management, HR, etc.)
While the leading factors essentially deal with getting technology to work, the fifth mostly involves people.
Creating and installing technology is so very different from getting people to think differently. It also involves securing top management buy-in and securing sufficient resource for success.
With technology-based business transformations, the hardest climb often is the behavioral change needed for overall success.