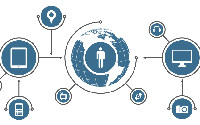 By Chuck Martin
The Internet of Things is about connections.
While much of the IoT focus has been around how smart or networked objects will connect to each other, our exploration and intended insights in this column will be to explore how all of these networked things cause and allow new interactions with people.
In the age of television, the information flow was one way, pushed from marketer to consumer.
The commercialization of the Internet via the World Wide Web created a new platform, which allowed consumers sitting at a computer to search, interact and pull information to them, on their own timeframe.
Mobile then allowed consumers to connect to the Web from anywhere at any time to search for and request any information of service desired at the moment and share with one another.
Those iterations of connections involved people interacting with technology in one way or another, with marketers tapping into and riding along on each of the respective platforms.
The evolution through mobile allowed much more precise message targeting, so more contextually relevant ads or information could be delivered much closer to the time and place needed by the consumer.
With IoT, the technology can interact with itself, anticipating the needs of consumers in advance.
And this is where marketers come in, since new forms of messaging and delivery will have to be created.
Machine-to-machine (M2M) interactions, wearable devices and billions of sensors at all possible locations will create new platforms as they communicate with each other and anticipate and transform how people go through their daily lives.
Being connected was nothing before this.
Before the Internet of Things, people used technology to help them get information. The thought process of what was needed started with the individual.
In the world of IoT, technology will anticipate and pre-determine what will be needed and have to provide it essentially ahead of real time.
Brands and agencies will have to leverage massive, behind-the-scenes data crunching to provide the most relevant and useful pieces of information to deliver to a location ahead of the person.
The Internet of Things has been projected to be big, as an understatement.
Over the next decade, the Internet of Things will generate $8 trillion in value, according to a report by Cisco and DHL. Even of that estimate is off by a trillion or two, it's still massively large.
IoT goes well beyond physical objects being connected to each other.
It's really about creating and leveraging links among people, technology, processes and data to create value for the consumer.
I am researching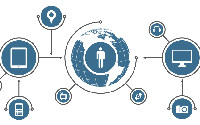 to determine identify where those values may reside.