Speaking Requests
Contact:
Chuck Martin
chuck@NetFutureInstitute.com
617-527-1363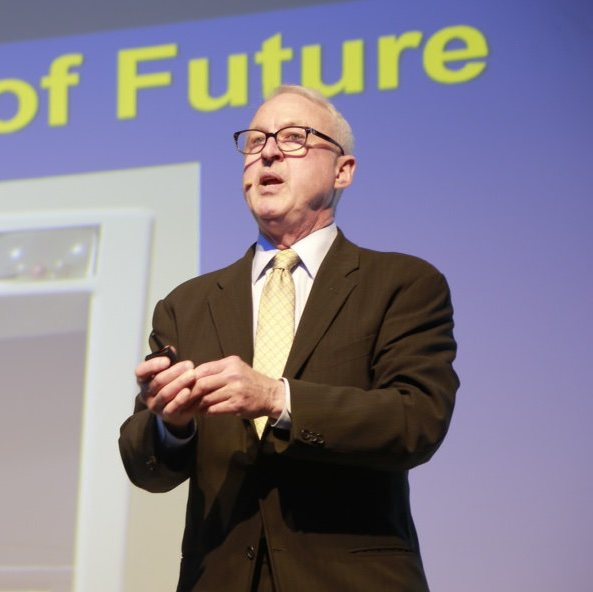 Internet of Things Keynote Speaker Chuck Martin
Chuck Martin is a leading Internet of Things and mobile expert as well as a highly sought after Keynote Speaker covering a variety of IoT, mobile and Internet of Things topics including:
The Internet of Things: As a futurist and visionary, in 1998, Martin wrote in his book Net Future the following: "Wearable computers will venture out of the labs into the workplace, disposable chips will allow appliances to communicate with each other, and more networked devices will continue to be linked to more networked devices." This session paints the picture for where the world is heading in The Internet of Things and what business leadership is needed to take an organization there.
Digital Leadership: Leading companies understand the magnitude of the digital revolution and are investing heavily to stay ahead of the game. Martin demonstrates how digital and mobile innovation can come from almost any place in any organization. While a robust and growing mobile industry continues to fuel the technology power behind the digital revolution, there are innovators at well known brands leading the charge inside their respective companies.
A World Of Digitalization:  There are more mobile phones worldwide than the number of toothbrushes or toilets. With bilions of those being smartphones, a new consumer is emerging, totally armed with all information at their fingertips. In this customized, fast-paced and high-energy presentation, #1 best-selling author Chuck Martin lays out the digital landscape providing a clear direction and path for businesses of all types. Digitalization involves the transformatiom of entire business models. Location technologies,  NFC (near field communication and sensors of all types all play a role in the coming consumer behavioral changes that will impact all business. There are specific moments when busienss leaders have the opportunity to transform their path to market and marketers have the opportunity to influence consumer purchase decisions.
Recent Appearances
Gionee Cheers

Beijing, China
Keynote Adress
Audience: Executives from throughout China

 Telcel

Guadalajara, Mexico
Keynote Address
Audience: Executives from throughout Mexico

Bloomberg BusinessWeek

Shanghai, China
Keynote Address
Audience: Executives from throughout China

MasterCard International

Cartagena, Columbia
Keynote address
Audience: Presidents of Latin American Banks

MediaPost IoT: Shopping

New York
Emcee of event
Audience: Brands, marketers, agencies

mLearnCon 2013

San Jose
Keynote address
Audience: 1,000 learning/training professionals

NAA Annual Meeting

San Diego Convention Center
Keynote address
Audence: 1,000 apartment executives, managers

Panama Banking Association

Panama City, Panama
Keynote Address
Audience: Executives of Latin American Financial Institutions

Harvard Business Review

Boston
Worldwide webinar
Audience: 1,000 executives,  managers

Western Corporate Federal Credit Union

The Bellagio, Las Vegas
Luncheon address
Audience: CEOs

Intelligence Group

Rotterdam
Keynote address
Audience: Internal leadership team

USAA

San Antonio, TX
Keynote Address
Audience: CEO, divisional presidents

 M-Health Summit

Washington, DC
Panel Moderator with Samsung, T-Mobile
Audience: Healthcare Executives

123MobileDay

Amsterdam
Keynote address
Audience: Executives and recruiting professionals

Danaher

Phoenix, AZ
Keynote address
Internal leadership summit

Acuity Insurance

Kohler, WI
Keynote Address
Internal Leadership Team

CFO Rising

Orlando, Florida
Keynote address
Audience: CFOs

  Media Post OMMA, Global

New York (Marriott Marquis)
Emcee
Audience: 1,000 Media and Agency Executives

National Apartment Association

San Diego, CA (Convention Center)
Keynote address
Audience: 1,000 Apartment Industry Executives

Apartment Guide Leadership Meeting

Caesar's Palace, Las Vegas
Keynote address
Audience: National leadership team

Tag and Label Manufacturers Institute

Los Cabos, Mexico
Keynote and roundtable
Audience: Owners and CEOs
 National Telecommunications Cooperative Association (NTCA)

New Oreleans, LA
Keynote
Audience: Independent local exchange carriers

Interlogix

San Juan, Puerto Rico
Keynote address
Audience: National distributors

Moviebites

The Hague
Keynote address
Audience: Internal leadership team

American Society of Safety Engineers

Baltimore, MD
Keynote
Audience: Safety engineers
National Association of Federal Credit Union CEO Officers

Santa Monica, California
Audience: CEOs

Sport Executive Leadership Conference

Broadmoor, Colorado Springs, CO
Keynote address
Audience: Owners and executives of sports teams

Incentive Works

Metro Toronto Convention Center, Toronto, Canada
Keynote address
Audience: Meeting planners

Iowa Commercial Real Estate Expo

Sheraton Des Moines, Des Moines, IA
Keynote address
Audience: Brokers, bankers, attorneys

National Association of Professional Employee Organizations

Chicago, IL
Keynote and roundtable
Audience: Professional employment organization execs

The Human Resource and Marketing Forum

Norwegian Dawn Cruise Ship, New York, NY
Audience: HR and Marketing executives

AMA The Third Screen Webcast

New York, NY
Audience: Nationwide registrants
Booking Information
Chuck Martin is represented by numerous speaker's bureaus.
To contact Chuck directly:
Chuck Martin
Chuck@NetFutureInstitute.com
617-527-1363
Requirements
The following are his requirements for his speaking engagements.
Presentation
Martin conducts his presentation directly from the stage, where he likes to move about freely. He requests a podium or table for notes during the presentation. Following the presentation, Martin would be happy to make a handout version of  his Powerpoint slides available to the sponsoring organization for distribution to attendees.
Audio-Visual
His program is presented from a computer to be supplied by the client. He will bring his presentation on the day of presentation on a portable storage device (thumb drive). He needs a wireless device to advance the slides remotely.
Sound
Martin requires a wireless lav or headset microphone for his presentation. A brief scheduled stage and sound check is essential prior to the actual presentation, preferably the night before. He uses audio/video in his presentations.
Promotional Material
Whenever possible, book promotions are not only welcomed but also encouraged.
For more details and information on speaking requests, contact your speaker's bureau:
To contact Chuck directly:
chuck@NetFutureInstitute.com
617-527-1363