By Chuck Martin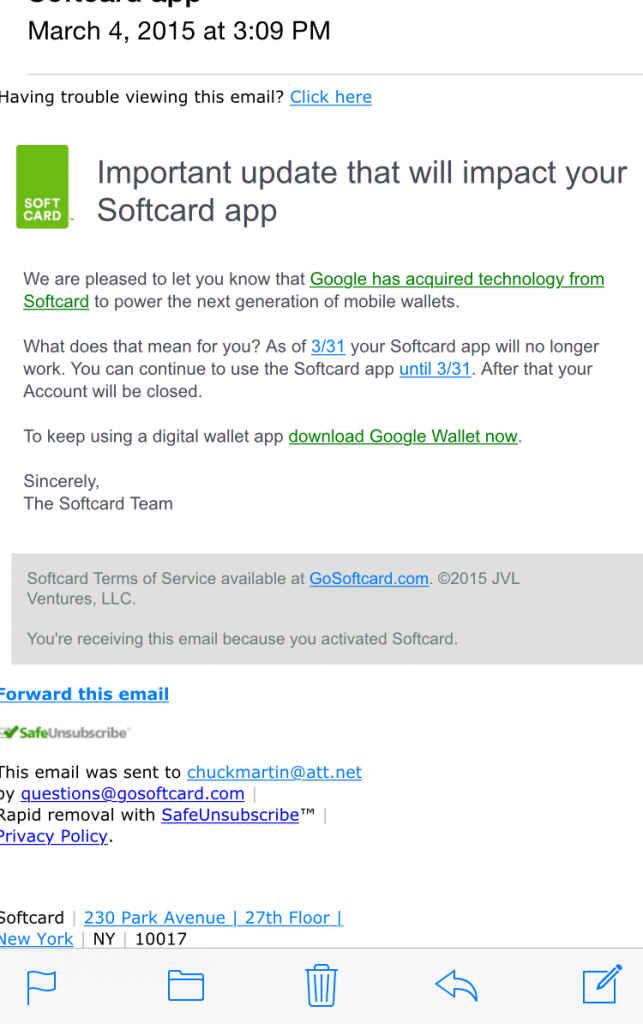 Softcard, the failed mobile payments venture of Verizon, AT&T and T-Mobile, is officially calling it quits.
The email notice that Softcard is officially shutting down on March 31 went out yesterday to whomever might still be using the mobile payment service.
This follows the announcement last week that Google is purchasing the technology of Softcard.
In that announcement, there was no mention of what would happen to Softcard, though it seemed pretty obvious the company was done. Yesterday they made it official.
The service was doomed if not from the start back in 2010 then certainly along the way.
Its name. Certainly the least of its worries, but the company initially gave itself the unfortunate name of Isis. It didn't even have the Isis website, instead using www.paywiththis.com. The company ultimately announced it would change its name, but didn't yet have a new one. Later, someone came up with the name Softcard. The website named www.Softcard.com? Nope. Someone else had that. It would be www/GoSoftcard.com.
Getting it to work. To use Google Wallet was quite simple: download the Google Wallet app and use it. At its launch, to use Isis/Softcard was not so smooth. Download the app. Go to an official Verizon or AT&T "corporate" store, not a store that just sells those phones. Find someone in the store who knows about Isis/Softcard, which always struck me as somewhat ironic, since they were the owners of it. But I digress. Have the person who knows about it find the person who knows where the special SIM cards are for payments to work. Get the payments system registered, which took me an hour the first time around.
Testing & Training. Isis/Softcard was field tested in high-tech Austin and Salt Lake City. Then it was rolled out nationwide. Nuff said on that. When Starbucks introduced its payment service to consumers, it was after employees were trained in how to use the system. Details were even included in the training manual. When Isis/Softcard launched, it was announced with great fanfare, well before any kind of masses of employees at mobile phone stores or retailers expected to use it were trained, let alone heard about it.
How it Worked. I must admit, I was a bit put out when the carriers essentially got my Google Wallet booted off their systems. For the Isis/Softcard app to even load, a consumer faced the following message: "Set As Default: Softcard will replace Google Wallet as your default payment methods for Tap and pay transactions." Not agreeing to make it the default, the app would not even load.
Where it worked. The app initially provided a lengthy, location-based list of places that accepted Isis/Softcard payments. On one day, I tried each one within a several mile radius in Boston. As with many other mobile innovations, I regularly tested Isis/Softcard in real life situations. In 2013, I visited multiple retailers that were identified as merchants accepting the mobile payments. It worked in none of them, as I wrote about at the time. None of the locations even had the payment terminals required for mobile transactions.
Payment methods. Isis/Softcard used a very limited number of credit cards, initially only American Express Serve. I tossed away my plastic Swerve card when it arrived, since I planned to use the phone to pay. However, Isis/Softcard required the Swerve PIN number, which was tossed along with the card. No code, no payment approval. Added my normal Amex card into the thing and that worked. I left the Swerve card in the app anyway, though it never worked.
Along-the-way workers. Some issues were not necessarily as visible as others. Over the last few years, I routinely asked industry people in the know of their views of various mobile payment mechanisms. When it came to Isis/Softcard, a person would often say that he or she actually worked on it a while back, somewhere along the way. I would bump into an exec in Europe and he would say he had worked on it, somewhere along the way. The number of people who either did or claimed to work on the carriers' mobile payment system became borderline comical. Lots of cooks, no chef.
While the Isis/Softcard app still worked today with no notice of any changes, the demise of the system was sent by email, not via the app. Yesterday, I received the following friendly email from Softcard:
"As of 3/31 your Softcard app will no longer work. You can continue to use the Softcard app until 3/31. After that your Account will be closed. To keep using a digital wallet app download Google Wallet now."
Consider it done. With pleasure.
The Isis/Softcard tree just fell in the woods.