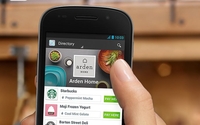 By Chuck Martin
Various methods of mobile wallets and payments seem to launching, closing and repositioning around the globe on a regular basis.
With the continuing evolution of the mobile wallet market, a study released at the International CES last week points to some rather large numbers ahead.
Twenty percent of all smartphone owners already used at least one mobile location service or mobile wallet in 2013, according to the Parks Associates study Transforming Commerce: Mobile Wallets and LBS.
More significantly, the study suggests that usage will increase to about 113 million, or 43% of all smartphone owners within three years.
The research shows that almost half of all holiday consumer electronics shoppers in 2013 expected to use their smartphones while shopping. Among them, more than a third (35%) planned to use their smartphones to look up product information, while almost a third (31%) planned to use mobile apps for shopping.
"We saw mobile apps and social media play an increasingly important role in holiday shopping, with  almost one  two holiday CE shoppers using their smartphones as part of the shopping process," said Jennifer Kent,  senior analyst at Parks Associates. She said that more than a third (38%) of shoppers who planned to spend $1,000 or more were using mobile apps for holiday shopping.
Anyone who has tried or successfully used mobile payments knows there are some market issues that need to be overcome for mass usage or acceptance.
There are numerous different methods of mobile payments, sale associates aren't trained and many consumers aren't even aware of various payment methods, to name just a few.
With the increasing potential uses of mobile devices through uses such as on-location deals and coupons, barcode scanning and instant price comparisons inching along from a growth perspective, more shopping activity is migrating to mobile.
As part of the shopping process, paying by mobile may be right behind.