Coffee at Luna's
How is your work-life balance? Are you stressed? Are you looking for the answer to better concentration and overall job and life satisfaction? Achieving a balance can seem impossible, but author Chuck Martin shares his secrets to work-life balance in his newly re-released short story "Coffee at Luna's: A Business Fable."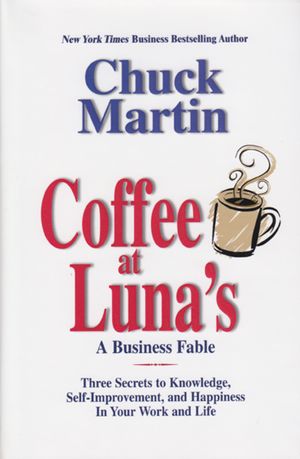 Martin, an international public speaker and business strategist, offers secrets to knowledge, self-improvement and happiness in one's work and life. Readers have experessed much enthusiasm towards the book, with a 5 star rating on Amazon and positive reviews on Barnes and Noble online bookstore.
The story chronicles an overworked manager who cannot seem to get much done as his work load increases and his personal time decreases. Bill, the manager, meets Teacher who suggests three key principles to improve his situation. From these meetings over coffee, Bill learns to become more efficient and soon his actions are emulated throughout his organization.
Midwest Book Review, an established organization promoting small press publishing, calls "Coffee at Luna's," "An entertaining, enjoyable, and valuable self-help guide offering keen insight to properly balancing work-related responsibilities and relationships for greater happiness both at business and in one's personal life."
"Coffee at Luna's: A Business Fable" is available for online purchase on Amazon here. Martin is available for interviews and appearances. Please contact chuck@mobilefutureinsitute.com regarding media appearances and/or book signings.